Book a Self-Catering Stay at The Quay House Clifden
Perched on the edge of Clifden Harbour, The Quay House is just minutes from the centre of this vibrant, engaging town. Dating from 1820, it is Clifden's oldest house, originally built for the harbour master. The present owners are Paddy and Julia Foyle, whose family have been involved in tourism in the region for almost a century. They are constantly on hand to share their suggestions of what to see and do. Paddy & Julia also preside over the finest of breakfasts–the perfect start to a day exploring Connemara.
The Quay House stands right beside the harbour in the market town of Clifden, long considered the capital of Connemara, a beautiful region of mountains, lakes and coastal inlets and the most westerly part of County Galway. Fishing boats and traditional gaff-rigged Galway Hookers are moored right alongside the house, yet it is just a short walk from the centre of the town, with its colourful restaurants, cafes and shops.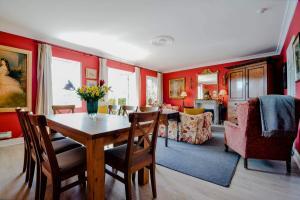 The Quay House was originally built as a residence for the Harbour Master, but it subsequently became a Franciscan monastery, then a convent and finally a Country House Bed & Breakfast owned by the Pye family, so it has had a long and chequered career. Today it is run as a Town House by the Foyle family, whose forebears have been entertaining guests in Connemara for nearly a century.
In the self catering part of the Quay house there is a fully fitted kitchen complete with washing machine & dryer and all mod cons. The decoration of the main reception rooms displays their eclectic collection of pictures and objects, which reflects their wide-ranging interests and tastes, and their close attention to detail. The bedrooms are also individually decorated and furnished. Some have good antiques and original paintings, several have working fireplaces, and all overlook the harbour.
Nearby are wonderful beaches, coastal walks, sea and trout fishing, horse riding, cycling, several golf courses and links, and a vast choice of hill and mountain walks.
Click HERE to book a Self-catering stay in The Quay House in Clifden Co Galway.