This is the perfect time to book a stay at Temple House on the Wild Atlantic Way and explore all that Sligo has to offer!
Temple House, Ballymote, Co Sligo is one of the finest estates in the west of Ireland. The great house, which was remodeled in 1864. Nestled in a wooded demesne, looking out over the Templars' castle to Templehouse Lake. Despite its vast size this is a comfortable, welcoming family home with many original contents. The owners are Roderick and Helena Perceval, whose family has lived here since 1665. Temple House is surrounded by an area of outstanding natural beauty, with beaches, mountains and numerous sites of archaeological interest. It is a haven for the outdoor enthusiast, with fishing on a private lake and miles of lovely woodland walks.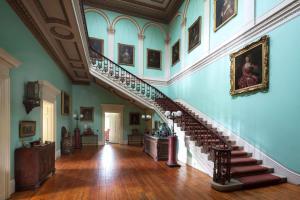 Temple House is a vast classical house in the Georgian style, set in the centre of a beautiful 1000 acre west of Ireland estate. This of course is ideal for exploring the Wild Atlantic Way and in particular Sligo, Donegal, Leitrim & Mayo.  After a day exploring you can then return to the house and be welcomed with a mouthwatering menu for dinner and plenty of rest and relaxation afterwards. Sipping a glass of wine while overlooking Temple House Lake and the 13th century castle of the Knights Templar.
Roderick & Helena are welcoming and consummate hosts taking great pride in the character of their home, north west Ireland and the special nature of Temple House Estate.
Temple House still retains its authentic decoration and furniture from that period and delicate Chinese porcelain is intermingled with solid County Sligo squires and their ladies. The main reception rooms are large, bright and comfortable, while the bedrooms – several have canopied beds – are particularly pleasant, with superb views.
Click HERE to book a stay at Temple House on the Wild Atlantic Way
Don't forget to follow us on Facebook, Instagram & Twitter for all our news and offers.