This is the perfect opportunity to treat your Valentine at Lorum Old Rectory. The house sits peacefully on the slopes above the River Barrow at Kilgreaney, about halfway between Bagenalstown and Borris. Bobbie Smith & her daughter Rebecca welcome you to their home, both renowned for their warm welcome and splendid home-baking.
Special Mention
Special thanks to Nicola Brady who included us in "Grown-up getaways: 10 adult-only hotel, spa and country house breaks in Ireland" in the Irish Independent on Sunday. Nicola captures what is so special about Lorum Old Rectory. Nicola describes it as 'home to a gorgeous collection of homely guest rooms, complete with overflowing bookcases and four-poster beds.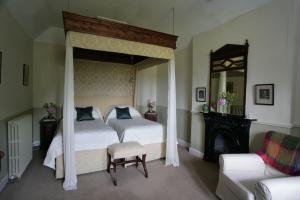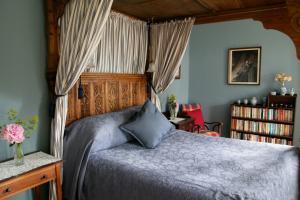 Staying at Lorum Old Rectory
Treat your Valentine at Lorum Old Rectory simply because we offer guests relaxed, Country House style Bed & Breakfast Accommodation where the emphasis is on making guests feel 'at home'.
The broad, high-ceilinged hallway at Lorum is both elegant and inviting. With a commanding presence is the 18th century grandfather clock marking time with its comforting chime. The glow of fresh flowers reflected in the mirror over the hallstand. All adding to the sense of warmth and generosity is immediately conveyed to the visitor. The spacious, pleasingly-proportioned drawing room, where our Bed & Breakfast guests may enjoy afternoon tea, drinks before dinner and coffee afterwards, has large windows that frame magnificent views of Mount Leinster and the western hills. Three large couches – ideal for perusing the many books that the family has collected or continuing a lively dinner conversation. The room's many curios and photographs give a lively sense of the family's and the area's past. The graceful dining room, small "snug" and the family's study (where Bed & Breakfast guests may watch television) are also off the main hallway.
Click Here to book a stay in Lorum Old Rectory and treat your Valentine!
Please make sure to follow us on Facebook, Instagram & Twitter!